Migraine pain is characterized by brain disease and it may be recurrent headaches from moderate to severe migraine. About 15% people around the world suffer from this pain and it is painful when someone is prone to frequent migraine pain. This pain hampers our daily and normal life and makes our life complicated and distracted as people can't continue work for heavy pain. Most of us consider as life killing pain and they take different migraine medicine to treat this complication. Migraine medication is not the solution but natural migraine relief should be going with some foods that may accelerate brain function and reduce this acute pain. Now we are going to discuss ins and outs of this health complication and hope that this article may be your migraine treatment at home and also you can get natural migraine treatment after reading this article.
What is a migraine: It is a kind of brain disease by frequent pain or headaches and it makes people so pained as this pain may move from different part of our head.
There are four phases of migraine pain or types of headaches for people who suffer this complication. People may experience it in different way like duration, pain, frequency of attack and some common migraine symptoms may be experienced like-
Prodrome phase: Prodrome phase is one of the stage that occurs 60% in the head and from onset to end may last for two hours to two days. There are some common migraine symptoms like mood change, irritability, depression, or fatigue. Constipation, craving for some foods, stiff muscle etc.
Aura Phase: Aura phase or migraine aura is a kind of transient focal neurological matter that happens as headache. This phase means some neurological symptoms which are called aura. Migraine aura may last for 60 minutes Visual effects may be diagnosed by the patients when migraine occurs. There are some common symptoms to diagnose this pain like visual complication or it may be so painful to look at the even near circumstances.
Pain phase: Pain phase is so severe in intensity and it may occur over and over again. This pain may last for 4-72 hours in most commonly adult person. Additionally, for children, it may last for 1 hour. There are some physical complications that may felt by human health like nausea, vomiting, sensitivity to light, sensitivity to sound, sensitivity to smells, fatigue and irritability
Postdrome: this complication may vary from person to person in relation to onset of pain or lasting of pain. But it is characterized by as the constellation of symptoms occurring once the severe head pain. This may last for few days and there are some common symptoms that people may experience are feeling tiredness, head pain, cognitive failure, mood change, complications in gastrointestinal functions and weakness. In addition to these facts, some people may highly feel not freshed when this pain attacks.
Migraine headache causes: different study has found that migraine pain may be induced by different reasons like genetics, environmental or certain foods that may be related to migraine pain. Most of the people even want to know what causes headaches.
Genetics: Study finds that about 34% to 51% genetic influence has been responsible to develop migraine pain or headache. But the risk level may be from small to moderate. There are a number of specific variants of genes that accelerate the risk of migraine pain. One of the possible reason for migraine pain induced by genetic factors is familial hemiplegic migraine. Four genes are supposed to be involved in familial hemiplegic migraine. Three of these genes are associated with ion transport and the fourth is an axonal protein linked with the exocytosis complications. There is another genetic cause that is cadasil syndrome or cerebral autosomal dominant arteriopahty with subcortical infarcts and leukoencephalopahty. This is genetics factors what causes migraines.
Most commonly it can be found that a person grows migraine pain after a time and when the health experts check the history of his family, his parents also bear this complication. For this, he is also suffering from migraine pain.
Triggers: In our everyday life, we may face, feel lots of things and consume some foods. These are considered as triggers to develop migraine pain. These are fatigue, weather and specific foods. But clinical study finds that these are not associated with migraine pain according to physiological conditions. Most people bearing migraine pain explain to the health expert that they suffer from migraine pain after 24 hours when they face those migraine triggers.
Physiological aspects: Commonly we have some physiological triggers which are stress, hunger, fatigue which cause to migraine pain. Most of the women may have migraine pain during menstruation. Additionally, there are more other hormonal influences like oral contraceptive, during pregnancy, and menopause. It can be said that migraine pain may be mostly induced by hormonal change in the human body.
Dietary influence: About 60% people explain their migraine pain induced by some foods that work as triggers. But study finds no evidence of those reports. However, some people may face this complication whenever they consume foods that may work as trigger and it is called dietary trigger.
Environmental Influence: Some people may report that they suffer from migraine pain for certain environmental influence. Environmental aspects may be lighting, smoky environment, air quality and cold weather.
These are some possible causes to migraine pain and our focus is how to beat this compilation with natural way. Natural ways mean going with the change of food habit. Today you may consume lots of foods. If you have frequent migraine pain or headache some foods may be your natural treatment. These foods are proved as the natural treatment for treating migraine pain according to study. Before discussing foods, we need to discuss some vitamins and minerals that work as headache remedy and these are as follows:
Magnesium for migraine: Magnesium is one of the wonderful minerals for natural migraine relief and it works for the human body as pain killer. It is one of the best migraine relief also. According to study, those who have frequent migraine pain have been found that they have lower level of magnesium. This low level migraine also causes to diabetes, heart disease, alcoholism and blood pressure.
Magnesium accelerates the transport of blood and wards off brain complication called cortical spreading depression which may generate visual and sensory changes. These changes are common for migraine pain. Additionally, there is very a very exciting fact that is to block the pain transmitting compounds in the brain.
Now you may be confused about the amount of magnesium that is to be taken per day. This is simply so important and you may need to take 200-600 mg magnesium per day to prevent your migraine pain naturally. However, you need to take foods which are rich in magnesium. If you have some complications when you are taking magnesium as high amount, then you need to discuss health expert for possible solution. But human body's food intake may vary. Some people may have good health by consuming healthy foods.
Riboflavin (Vitamin B2): Riboflavin or vitamin B2 is considered as one of the pain killer of headache. This vitamin works highly for adult people. Riboflavin plays very important role in the process of mitochondria that provides energy to every cells. The function of mitochondria is very important as displacement of this mitrochondria can induce frequent migraine pain according to migraine.com. Different study have been conducted on riboflavin in relation to migraine pain reduction. Study finds that those are very prone to frequent migraine pain attack if they have lower level of riboflavin. Those who have required level of riboflavin have less risk of facing migraine pain.
However, Vitamins for migraines or Riboflavin highly known as vitamin B2 is so important for the human health and plays wonderful role in energy production, metabolism and development of cells in the brain and this process reduces the risk of facing frequent migraine headaches.
Melatonin: Melatonin plays a very significant role in boosting sleep and some people often report that they suffer from migraine pain due to sleep deprivation. So melatonin can be effective tool to boost sleep condition. Additionally, study and research suggest that daily intake of 3 mg melatonin can be so significant to reduce the frequency of migraine pain or severe headache.
Melatonin can be consumed from food sources and everybody is highly recommended to take vitamins and minerals from natural source to make sure you are not getting adverse side effects. Evidence based guidelines from the American Academy of Neurology and the American Headache society also recommend that melatonin can be good way to reduce the frequency of migraine pain and this can be natural migraine relief.
Omega 3 fatty acid: Omega 3 fatty is a compound that is available from fatty fish or sea fish. Omega is very important for brain function or cognitive development. It accelerates cell health in the brain. According to study and research, omega 3 fatty acid is essential for neurological development. In relation to migraine pain, this nutrition plays very vital role in reducing frequency, duration and acuteness of migraine pain.
So this nutrition should be taken on daily basis to reap the benefit of natural migraine relief. People who have this complication should take omega 3 fatty acid for migraine headache relief.
Now we are going to discuss some foods which may be your natural migraine relief and you need to take into consideration most importantly as these foods work as natural migraine prevention to treat migraine headache.
Salmon: Salmon is healthy foods for its varied mechanism in human health. It has omega 3 fatty acid that has so many health benefits. This component beats inflammation which may be a reason of migraine pain. In addition to this, salmon contains riboflavin or Vitamin B2 and this vitamin is one of the powerful agent on how to treat a migraine pain as this vitamin accelerates energy production, metabolism and development of cells in the brain.
Dark Chocolate: Magnesium is the king of treating your migraine pain. Excellent source of magnesium is dark chocolate. When your stress level is so high, it may cause to your frequent migraine pain. This magnesium relieves stress level and soothes your brain. So going with dark chocolate can be your excellent and natural treatment from now.
Figs: Figs are fixed to beat migraine pain. Inflammation weakens the function of brain cells that cause migraine pain. A better treatment of beating this inflammation is to take potassium. Luckily, this food is rich in potassium. Every day intake of figs can make a difference when you are so prone to migraine pain.
Shrimp: Shrimp is rich in antioxidant that inhibits inflammation. This inflammation causes migraine pain most of the time for the people who suffer from migraine pain frequently. This food is high in many vitamins, minerals, omega fatty acid which are needed to beat migraine pain. This food is really so helpful on how to prevent migraines naturally.
Carrots and sweet potatoes: Migraine pain is one of the daily health complication that about 15% people suffer from this complication. Now you want to take as natural solution and seek from food source. Carrots and sweet potatoes can be very exciting remedy for migraine pain. These foods are rich in vitamin c, riboflavin, niacin and manganese and many more. These foods are recommended to take on daily basis to prevent migraine pain.
Collard Greens: You are acutely suffering migraine pain and a lot of medication is going on. Medication may have side effects but natural way of treating any disease does not have any side effects. Part of taking your treatment as natural way, collard greens can be awesome to beat your migraine pain. Migraine pain sufferer are recommended to take magnesium rich foods as magnesium is wonderful solution to migraine pain. This magnesium prevents all kinds of inflammation which is the reason for migraine pain. So collard greens can be wonderfully natural solution and natural migraine relief.
Kale: When you feel so migraine pain and seek for natural migraine remedies, kale is going to be your migraine pain treatment. This food is rich with minerals that kill migraine pain as this can supply high amount of magnesium, omega-3-fatty acid. This food can be taken with salad, sauce and smoothie.
Quinoa: Quinoa can be great food that is considered as effective foods for treating migraine pain. When quinoa is taken at the time of migraine attack, migraine pain is relieved. Protein is so important for those who suffer from migraine pain. This food is rich in protein. During migraine pain, the level of protein is decreased. Luckily, this food can enhance the amount of protein when you are facing migraine pain. Quinoa is also very tasty and rich with more minerals.
Liver and Muscle: Meats are also healthy foods that contain high amount of iron, vitamin B2 and protein. Liver is also wonderful food that works to prevent migraine pain. Muscle especially heart muscle can be very effective for brain health according to neurology study. These foods equally are rich in many minerals to boost metabolism and beat anti-inflammatory agents. So you should go with natural ways of eating liver and heart muscle like treating migraine pain.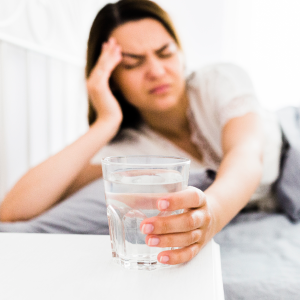 Water: If you have a habit of drinking enough water, this can be good for killing your migraine pain. Dehydration is one of the reason for migraine pain. When you are facing frequent migraine pain but you are not drinking enough water, you should make this habit like drinking enough water from now. Study says that drinking enough water reduces stress and anxiety which ensures natural migraine relief. This process is also important to get rid of migraine pain. So you should drink at least 8-10 glass water per day and you can get a result in relation to loss of migraine pain.
Coffee: Caffeine in coffee works for remedy of headache treatment. Coffee in light amount has been considered as migraine pain killer according to different study. You may have a habit of drinking coffee and this habit is good for treating migraine pain. On the other hand, consuming coffee too much may also be bad for your health like triggering migraine pain. The main function of coffee is to make sure you are free from pressure and it makes your mind fresh that is needed to kill migraine pain. So you are recommended to drink coffee if you have migraine pain at lower level.
Whole grain: Whole grain is proved as one of the nutritious foods and whole grain has so many health benefits. In relation to migraine pain, this food works as your brain healthy foods. Whole grain enhances energy in the brain and brain can function so effectively when you are regular to consume whole grain. Whole grains are oatmeal, white bread yogurt which may be your interesting food list but daily intake can change your health as natural migraine relief. Additionally, this food improves our mood condition and helps our body to relieve serotonin that makes us feel good.
Almonds: Almonds are rich in magnesium and magnesium is an essential mineral to function central nervous system. This food is called as brain healthy foods that enhance energy in the brain as well as reduce pain in the body. Magnesium rich foods like almonds, banana, avocados, legumes and seeds can be your natural solution to treat migraine pain. Study has found that those who suffer from frequent pain of migraine have lower amount of magnesium and surely they need required level. You may be interested to consume those kinds of foods to make sure you are reducing this life firing complication. Additionally, this magnesium soothes blood vessels that is important for treating migraine pain. So this can be your natural migraine relief if you find like this.
Yogurt: Yogurt has lots of health benefits as this food contains calcium and the function of calcium highly plays a very important role in preventing calcium. Fat free Greek yogurt can be taken on daily basis for not only migraine pain but also filling up the required level of calcium. Calcium functions brain activities so importantly for this you need to add this food if you are so prone to the risk of migraine pain.
Spinach Salad: Blood pressure highly causes to migraine pain as it instigates different chemicals in human cells. Release of those chemicals can be a good solution to reduce migraine pain. Spinach salad lowers blood pressure and prevents pain in the body. It is so important for treating migraine pain with spinach salad if you follow this consumption on daily basis. Spinach salad also prevents anxiety and mental pressure which is needed to reduce migraine pain if you are so prone to frequent migraine pain. This can be obviously a natural migraine relief for your migraine issue.
In addition to those foods like going natural ways like consuming those foods, you may need to do more things like change of environment, boosting sleep condition and taking some physical exercise. Additionally, you may also need to avoid some habits that may be a reason that triggers migraine pain. Regularity and maintaining a good practice may reduce this pain.
Change your environment: When you are in the environment like acute light or harsh sound, you may be more prone to migraine pain. Light and sound causes sensitivity to migraine pain as you can't take sound sleep. So relax and calm environment is needed to boost sleep condition and required level of sleep at a stretch can be another solution to migraine pain.
Hot and Cool environment: Most of the cases, so hot and so cool environment may cause to pain in your head because ice packs generates numbing effect for your migraine pain. Heavy hot or so cool influence your head as so cool can be a reason of cold and this coldness is also responsible for migraine pain. If you set up a room that is fit to your mind and health, it is going to be natural remedies for headaches.
Boost your sleep condition: Study finds that lack of sound sleep causes migraine pain and there is no boundary on how long sleep can be taken. From person to person, it may vary. Standard level of sleep is 7-8 hours and you may feel full how long sleep you have taken. This full sleep may be headache remedies.
Regular sleep hours: Most of us may be so unaware to have sound sleep and irregularity in taking sleep may be a big reason for migraine pain. Full night sleep is the fuel of the whole day for human body. If you set up a plan or regular hours of taking sleep, this may be a solution. Additionally, going to bed and waking up at same time is also so important for those who suffer from migraine pain. Sleep should be so sound and deep as this sleep provides energy for human body.
Avoid things that kill your sleep: Some people like to stay on social media, watch movie in the deep night or talking over phone. If you have already this pain, you need to change it and make a practice that promotes better sleep condition. To boost better sleep condition, you may read a book, listen to soothing music and do something that make you feel sleepy.
Avoid effort to sleep: We sometime may try hard to induce sleep. This condition can't make you feel sleepy rather it breaks your sound sleep. The harder you give effort to sleep, the more you will be distracted from sleep. So in this case, you should also do something that can make you feel sleepy. Sleep is so important because lack of sleep is also a big reason for migraine pain.
Avoid foods that kill your sleep: There are some foods like alcohol, caffeine, aged cheese may distract your heavy sleep condition. Additionally, you may experience some foods that are killing your sleep. So you need to try to avoid those foods that harm your sleep.
You may also like to learn : Natural Ways To Boost Your Sleep And Follow Foods That Help You Sleep
Physical Exercise: Physical exercise plays an important role in reducing migraine pain according to different study. Physical exercise works to release certain chemicals in the human body and these chemicals are removed when our body is shaken by physical activity. Most of the cases, taking part in sports and games can relieve anxiety, depression and enhance stamina which in turn a fresh mind is ensured. Every day taking part in sports can also reduce weight loss which may be your mental happiness. So if you want to treat migraine pain naturally by taking physical exercise, you may also be involved in sports and games like swimming, cycling or walking or running.
Stress Management: Migraine pain is induced highly by stress. If you can control your stress level, it may work to reduce your migraine pain. For this, you may need to do something like-
Think Simple: We may be stuck in big chain for a simple matter. But this may cause your migraine pain when you are taking a simple issue into a big issue. For better living with mental freshness, you should take every issue on simple basis to make sure you are not going to dig deeper into mental problem.
Make a routine of normal life: Life should be going on with a routine. If you follow a complete routine of your life like office, spending time with family, hangout, personal work and sleep, you are not going to face burnout problem. Mental freshness is one of the important matter to treat migraine pain.
Spend free time without work for relaxation: When you are so under pressure due to official work or business purposes, you should stop to satisfy your mind. You may also travel in faraway to take fuel to rejuvenate your mental freshness. As much as possible, you should enjoy your life and take pressure that is possible to bear for you.
In conclusion, migraine pain is daily problem to most of the people and this may be treated by changing food habits and lifestyles. If someone tries to lead their life without migraine pain and seek for natural remedies for migraine, surely they need to follow those foods on daily basis and can make a difference in reducing migraine pain and this can be a complete home remedies for headache.
Want to learn more about Headache : Types, Causes & Medication