As small as an egg may appear, it has all the 9 essential amino acids. So, egg actually a complete protein. Amino acids act as the building blocks for the body as they aid in the formation of protein.
Though eggs also give energy to the body, their high protein content helps the body in the following ways;
Repairing and building of body tissues, muscles and cells
Makes hair and nails grow strong
Helps in keeping infections away
Helps in balancing the body fluids
Egg proteins are essential to maintain a healthy balanced protein intake. Eggs are way too cheap considering the benefits you get from consuming them in your meals. Whether you are making an effort to build muscles and lose weight, eggs are ideal for you.
Don't join the chicken haters club. It's a big lie to equate consumption of eggs to smoking cigarettes. Most people have fallen for this myth which states that these two have the same capability of ruining your arteries. Do your research and find out the benefits you get by eating these versatile gifts from the humble chicken.
How Much Protein is in a Single Egg?
Protein content in a single egg depends on its size. On average, most eggs have 6 grams of protein content. However, large eggs can have up to 7 or 8 grams of protein content.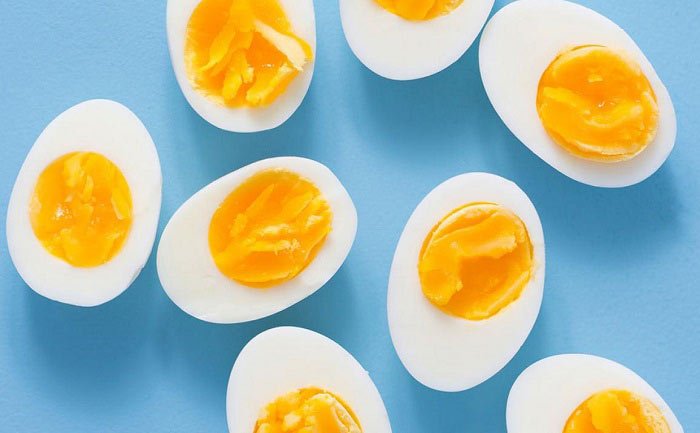 You can measure the percentage of protein in an egg by considering its weight. Every gram of an egg's weight contains 125 milligrams of protein. Read below for a simplified illustration of protein content in different egg sizes;
38 grams egg will contain 4.8 grams of protein. This will most likely 56 grams egg will contain 6.3 grams of protein content. Be a small egg.
44 grams egg will contain 5.5 grams of protein. This is the weight of a medium-sized egg
50 grams egg will contain 6.3 grams of protein content. A weight for a large egg.
An extra-large egg weighing 56 grams has a protein content of 7 grams
An egg with a weight of 64 grams contains 8 grams of protein. Such is found in those bigger eggs which have double yolks in most cases.
You can prepare your egg in different methods. Whether you like it scrambled, fried, poached, hard-boiled, or omelet, its protein content is not altered. You are assured of the same amount of protein in every state you choose to consume. But it's important to note that this applies to eggs with no other ingredients.
How do You Get the Most Protein from Eggs?
Research has proved that egg white has more protein content than egg yolk. For instance, an egg with a protein content of 7 grams usually has 4 grams in the egg white and 3 grams protein in the egg yolk.
If you want to give your body the most protein from an egg, it's wise that you consume the whole egg. Consuming only the egg white will mean that you will only eat 4 grams of protein from a total of the 7 grams offered by the egg. Consume the egg properly. It's the best way of showing gratitude to the chicken,
The egg yolk has nearly the same amount of proteins as the egg whites. Their only difference is that they have more calories than the egg whites. The yolk hosts almost all the fat content of an egg being at 9 grams. From one extra-large egg, you get 19 calories from egg white and 61 calories from the egg yolk.
If you are working on reducing your calorie intake, you can opt for an egg white instead of a whole egg.
What's Healthier Egg White or Yolk?
Egg yolks are more concentrated on calories and fat content. If you are trying to avoid calories and fats in your meals, egg whites will be the best option for you. Look at it this way;
Egg white- contains 19 grams of fat/calories and 4 grams of protein in a single extra-large egg
Egg yolk- contains 61 grams of fat/calories and 3 grams of protein in a single extra-large egg
Are Eggs Considered a Good Source of Lean Protein?
Any type of food can be considered as lean protein if it has the following per serving;
Less than 10 grams of fat
Not more than 4.5 grams of saturated fats
Not more than 95 milligrams cholesterol content
The serving size of one extra-large egg is 55 grams. This is equated to 5.3 grams of fat content, 1.8 grams of saturated fats, and 208 milligrams of cholesterol content. With this simplification, it's clear that eggs have very high cholesterol and thus they do not meet the FDA's requirements of a lean protein.
However, this does not mean that eggs should be completely excluded from the lean protein group of foods. Almost all the cholesterol is situated in the yolk together with egg vitamins and minerals. Egg whites are great as they have almost zero cholesterol and fat contents. So, considering that you need learn protein, egg whites will be great.
Why are Eggs a Good Source of Protein?
Giving your body the best amounts of proteins help boost the body's metabolisms, keeps you full for a longer time, and helps in building and maintaining muscle mass. A nutrition review is done by the American. College states that when proteins help in keeping your body muscle mass healthy, this in 5 urns makes it easy for your body to burn fats thus helping in weight loss or weight management. So why are eggs a good source of protein?
Contain antioxidants that are great for your eyes
Facilitate healthy aging by boosting the absorption of nutrients in your body
Have the capability of improving your mental health
Keep you full for long thus aiding in weight management
Helps maintain healthy and strong muscles
Helps boost your immune system
Gives women a safe and healthy pregnancy
Keeps you away from the risk of heart diseases
Increases your energy
As small as an egg is, and as cheap as it is, doesn't overlook its exciting and important benefits. Eggs offer much in just a few seconds of preparation and serving. There are however other foods that have the same or more amounts of proteins than the eggs, read below for more information.
What Foods Have More Protein than Eggs?
1. Salmon
When we are told our bodies need more proteins and omega-3 fatty acids, we scratch our heads thinking where we are to get them. Well, here you have an answer; Salmon has high contents of these essential nutrients that mostly get recommended to us by health professionals.
With its unique texture, great taste, and easy cooking method, salmon is one of the most preferred fish. Thanks to its high nutritional value. Salmon contains 19 grams of serving per every 3 oz. serving.
2. Kefir
Every cup of kefir contains 10 grams of protein. This deliciously thick and creamy drink contains proteins, probiotics, and rich flavor. Kefir fits well in smoothies and some baking and cooking recipes like pancakes and chicken. You can also get yourself kefir with fruit flavors and enjoy it whole.
3. Pumpkin seeds
Though pumpkin seeds are concentrated in their fat content, they are also high in their protein levels. Pumpkin seeds have 14 grams of fat per every serving and 10 grams of protein per every ¼ cup serving. They are also highly rich in iron and can be roasted or eaten raw.
Get yourself these nutritious seeds and snack on them or sprinkle some on your soup or salads.
4. Edamame
This is soy in its whole, green natural state. Edamame is a bit crunchy and very delicious. A half-cup of edamame contains 9 grams of protein and you can consume it in various ways.
You can sprinkle salt on whole pods to feed on it as an appetizer, buy it dry and freeze them to take it as a snack or star fry the frozen ones into your pasta salads. Edamame is sweet and relaxing in every state of their consumption.
5. Tuna
There is an average of 31 grams of proteins in every 6.6 oz. can of tuna. Though canned tuna has always been underrated, its high protein content is unbelievable. Canned tuna has its added advantage of stable shelf life and high omega-3 fatty acids levels.
A sandwich with tuna salad will be ideal when those hunger pangs strike. Sashimi and tuna steaks are also great if you are the types that love tuna recipes.
6. Quark
These are most recognized due to their funny names. It's a German kind of Greek yogurt and resembles fresh cheese.
Quark can be eaten by spoon coupled with delicious toppings, add it to a smoothie or you can use it to replace cream cheese or sour cream in your recipes.
Every half cup of cheese contains 13 grams of protein.
7. Peanut butter
Every 2tbs serving of peanut butter contains 8 grams of protein. It's disadvantaged in that it contains 16 grams of fat per every serving but great as it has 3 grams of fiber per serving.
Whether you like them crunchy or creamy. Peanuts provide high proteins and always enjoyable.
8. Chicken
In terms of their protein levels, Chicken comes first before its eggs. Apart from the high levels of protein, chicken is cheaper, more filling can be frozen, and has various ways of preparation.
Go for the thighs or eat your chicken together with its skin if you love your protein with a bit of fat. Every 3 oz. of cooked chicken contains 24 grams of protein.
9. Lentils
Every half-cooked cup of lentils contains 9 grams of protein. Lentils are highly rich in both proteins and fiber. These wonderful legumes are available in different types with a difference in taste and texture. You can find them in green, red, black and French colors.
10. Black beans
These types of beans are not only recommended for their high levels of protein but also their high fiber levels. Per every cup serving, black beans measure up to 6 grams of fiber and 8 grams of protein.
You can buy the canned ones and mix them in your chills and salads for their protein-fiber richness.
FAQ
Can one toss the egg yolk?
It's not advisable to toss the egg yolk as it contains nearly half of the nutrients of the egg. The egg yolk hosts vitamin D, A, and E. Moreover, the egg yolk contains unsaturated fats that aid in the absorption of these other nutrients
How many eggs can one eat?
There is no minimum number of eggs that one can eat. Health Professionals advise that it's best to include eggs in all meals. However, it's important to add various nutrients from fruits, whole grains, and vegetables.
Are eggs good for diabetic people?
People with diabetes are encouraged to consume meals rich in nutrients. People with diabetes should include eggs in their meals as they are rich in protein, fatty amino acids, iron, and anti-aging products. Different clinical researches have concluded that eggs have no cardiovascular effects and can therefore be consumed by diabetic patients.
Final Recap
You can't compare the size of an egg with its benefits. Eggs are versatile and affordable. Though it comes second after its mother the chicken, the importance it bears can't be overlooked.
Therefore, eat eggs when you want to stay full for a longer time, to build and maintain your muscle mass and when you need other benefits as described above. Don't miss out on these amazing protein benefits from that egg that is underrated by most people.
Recommended Post for You:
https://www.foodbehind.com/soy-protein-and-organic-protein-powder/