Fish loving people are so lucky as they consume one of the healthiest foods because not only both fishes from the salt water and from fresh water (sweet water) are loaded with various types of Vitamin, fatty acid omega-3 that is essential for the betterment of the human body but also a great natural source of protein, an essential component for building and repairing the tissues in the human body. Here we discuss some of the benefits of eating fish in brief that help you understand why one should consume fish daily diet.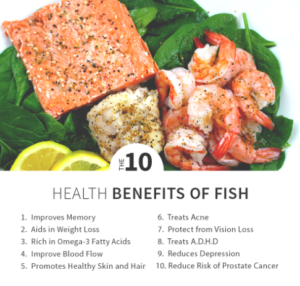 Fish Beneficial for pregnant and nursing mother:
Fish contains nutrients like Omega-3 fatty acid which is helpful for the developing brain and eye of the fetus and newborn babies as well as essential for in general growth and development of any other part of the human body. It's also too good for the mom with a newborn. In some sea fishes, methyl mercury is found that is harmful to the development of the brain of the fetus and newborn baby. So, the pregnant and nursing mother should avoid such kind of fishes contain a high level of mercury, such as trout, sardine, salmon et Cetra.
Fish Beneficial for the heart:
Modern lifestyle is responsible for some common heart disease like heart attacks and strokes responsible for premature death at a high scale now a day. Fish might be the best food for people to keep their heart healthy and it can lower the risk of heart attack and stroke. Researchers found that fatty type of fishes that contain omega-3 fatty acid at a high scale are more beneficial for heart health. So, add some fish, especially sea fish, at daily diet to keep heart healthy and strong.
Fish increases the yellow matter in the brain:
A brain without yellow matter is merely a nervous system. The decrease of yellow matter in the brain is responsible for age related cognitive decline and it is also responsible for the fatal disease like Alzheimer's disease. Researchers found that people who eat fish at least two times a week have the more yellow matter in their brain and have a sharp memory than that of non-fish eaters and the symptom of age related cognitive decline rate are low in them.
Fishes are a good source of Vitamin D:
Vitamin D, an essential vitamin that prevents disease like Rickets, Osteomalacia and some skin disease, also works as a steroid hormone but in cold countries where a huge portion of people naturally deprived of the sunlight are deficient in Vitamin D. Some fatty sea fish like salmon, trout, tuna, mackerel, et Cetra can be the best source of Vitamin D for the sunlight deprived people. Cod liver oil is a well known source of vitamin D. So, choose fatty fish as a regular diet if you don't get much sunlight to protect yourself from the deficiency of Vitamin D.
More benefits of eating fish
Fish helps come out of depression:
Sadness, low mood, loss of interest in the regular events of life, all these common the symptom found in modern people, are called mental depression, that is a fatal but common mental disorder kills the inner mental environment of human beings. Researchers have found that people who consume fish as a regular diet rarely depressed because of the Omega-3 magic. Omega-3, a kind of Fatty Acid, fights against depression and increase the rate of effectiveness of antidepressant medication.
Fish works against sleeping disorder:
Sleeping disorder is a common problem of modern life and day by day as well as the consumer rate of sleeping pills is increasing at an alarming rate. The fish eating habit can be a good alternative to sleeping pills or sedative and this dietary habit can be a good alternative to the solution for the sleeping disorder. Some study found people who eat fishes containing vitamin D enjoy deep and sound sleep without having any sedative. So, eat fatty fish like salmon at least three times a week that may help you to improve sleep.
Fish is a good organic source of nutrients:
To keep fit and healthy one should consume foods that ensure the organic supply of nutrients. Fish might be the right choice as a daily diet to ensure the supply of essential nutrients such as various vitamins, minerals, iodine, protein and fatty acid omega-3 in an organic way. Consuming fishes like salmon, trout, sardines, tuna at least twice or thrice a week may fulfill the deficiency of such types of nutrients essential for body function. Try wild fish instead of farmed fish as wild fishes are the good organic source.
Fish helps prevent children from asthma:
Asthma becomes a common disease in every continent and the rate of asthma affected people are increasing day by day over the last few decades at an alarming rate which is incurable. In the case of asthma the policy- prevention is better than cure – is the best policy. Many studies show that fish eating children are at a lower risk of asthma. Asthma affected people must avoid allergenic fishes such as few types of shellfish.
Fish is beneficial for the eye vision at old age:
Macular Degeneration, one of the common causes of vision loss, is a common disease of old age, leads hundred and thousands of people to blindness around the world, but it is the omega-3 which can give protection against Macular vision by delaying the development of Macular Degeneration. Keep oily fishes in the daily diet for the people of all ages to diminish the risk of Macular vision.
Fish is a delicious food:
Fish is popular as a dietary choice all over the world because of its great taste, beside this, no doubt, fish is very easy to cook and easily digestible. Tons of recipes are there to make fishes really nourishing and tasty. Try to choose wild fish instead of farmed fish so that you can keep you and your loved one away from the contamination and harmful pollution.