Human body is made of different cells and cells make up tissue and tissue makes up organs. Organs is a kind of system in the human body that plays vital role in different process like digestive process, respiratory system and development process of the body. So for a strong system of the organs and muscles, protein plays a very important role by making cells strong in order to achieve a combined healthy human and intake of protein during pregnancy period will define how healthy your baby will be for lifetime. Now we discuss about protein rich food for pregnant women.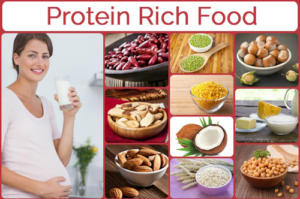 Chicken: Chicken is undoubtedly high nutrients foods that have vitamin and minerals. Lean chickens are rich in all vitamins and minerals that contributes building block of muscles as it has also 9 amino acids. Chicken's liver is also full of foliate and healthy iron. It is possible to get enough omega 3-6 fatty acids. 87% of daily protein requirement is possible to get one serving of cooked chicken. Anyway all these nutrients develop bone, organs, and cells to make sure that your baby is going to be healthy and your baby is going to be disease free for lifetime. You try to take well cooked chicken and avoid skin of the chicken as it is highly fatty to prevent obesity.
Eggs: Taking eggs is also inevitable during the last trimester of pregnancy to gain required fat of your body. During rapid growth of your baby, you need choline, micronutrients important for liver functions, that is possible to get from eggs to build strong cells and making it essential. Proper intake of egg will reduce your baby's growth problem, renal and pancreatic. Fetus for the cell development is made of protein. Fetus development needs high protein. So Eggs contain high level of protein and will be helpful if you are pregnant. Take 1 or two eggs everyday if your blood cholesterol level is normal to balance saturated fat in the body. Avoid taking egg yolk if you have already high blood pressure. Be careful of white and solid yolk when you are boiling egg to kill bacteria for safe intake as egg should be hard boiled.
Lean Meat: Your growing baby is being made of brain, heart, skin, hair and fingernails. The forming process of those parts needs high protein. Lean meat can be best option for protein intake. For being pregnant, your weight is going up and for growing weight needs more protein. 1.1 grams protein is needed for per kilogram. At least 70 grams protein should be gained from lean meat. Even for your baby's muscle, brain development, Intake of iron, zinc, vitamin-12 and omega-3 fatty acid are so important. Lean meat can be good option for taking that nutrition. Most of the zinc is in the skeleton. Your baby's skeleton will be rigid if there is plenty of zinc. It also develops tissue such as skin and hair. Lean meat is safe because it has lower fat. But farmers use antibiotic for faster production. So while choosing lean meat in the market, justify organic values of the farm.
Pinto Beans: Pinto Beans is one of the important foods during pregnancy. Variety of beans like black bean, black eyed beans, and pinto beans are rich in iron, calcium, folate and zinc. A pregnant woman strongly requires a strong group of organs and cells that protects, defends and prevents against infection, disease and altered cells to save herself as well as her baby. Pinto beans have another nutrition that is copper which helps keep immune system to be effective. Deficiencies of copper absorption may cause anemia to premature baby. Pinto beans are also rich in fiber which helps digestive process easy and a pregnant woman may absorb healthy foods due to having proper digestive function.
Proteins are strongly needed for growth and development of the body, for body maintenance and repair, maintenance of damaged tissue and also effective component of certain hormones like thyroxine and insulin, a substance that keeps our blood sugar level from too high and too low. Different study and research have found that those pregnant women who take protein rich foods, their baby's skin and structure are more tolerable and rigid. So its so important to take protein rich foods during pregnancy.