When we have health problems, we seek for help from different doctors and take advice of taking medicines on regular basis. Most of us don't like to take medicines as it may be little bit odd to ingest. But there are obviously some fruits and vegetables which can play significant role in preventing and protecting the health problems. According to WHO and Different research institute recommend taking fruits and vegetables to keep away side effect of different medicines. So papaya health benefits are amazing to treat like dengue, infection from zika virus, cardio toxicity, weight loss and beautiful fruit for women to treat menstruation.
Papaya is one of the popular fruits around the world especially in the west and Asian countries. This great fruit can be used as medicine for different health problems like digestion, weight loss, menstruation, infection, cancer, heart, constipation and many more problems. The health benefits of papaya (pawpaw) can't be described in a word as it can be taken by baby for its soft form. This fruit is full of phytochemicals, vitamins, minerals and antioxidant as nutritional value to supply needed nutrition and prevent health related problems.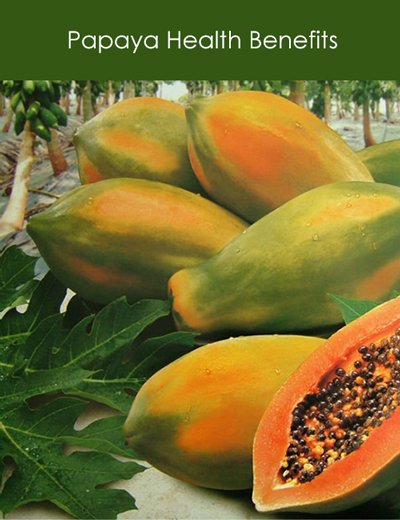 Papaya to treat Dengue: Dengue is a viral disease that is transmitted by the bite of aedes mosquito. The patient suffering from dengue fever faces the decreasing level of platelet in patients' blood. This is a disease that can take life of a patient. Different study, research has found that papaya as well as extract of papaya leaves is being used to increase the level of platelet in blood. Papaya health benefits is so effective for those who have already beat dengue to get back in normal strength and stamina of physical condition.
Zika Virus has also spread out around the world and approximately thousands of people were infected with this virus. The fever of this virus lasts for at least 3 months. So Papaya and extract of papaya are good options to treat the epidemic of this virus. The fruit juice and leaf extract has different kinds of properties like anticancer, anti-oxidative, anti-inflammatory, antibacterial, hepatoprotective, anti-sickling effect in sickle cell disease.
Even different pilot study has confirmed with evidence that two doses of papaya leaf extract significantly enhance the level of platelet for those who have been suffering from dengue fever and have lower count of platelet.
Papaya to protect cardio toxicity: The leading causes of death in this modern world are highly heart disease. Now this disease does not exist for only old aged people and it is also found among the young. The effective medicines of heart disease are medicinal plants, fruits and vegetables. Fruits and vegetables contain varied biological properties to protect heart disease. Papaya is a fruit popular with its nutritional and medicinal role in human body. Papaya contains flavonoids, lycopene, tocopherol, organic acids and many more. Moreover, papaya vitamins like A, C, E and Folate are available. All these nutritional supplements have protective role in reducing cardio toxic elements. Cholesterol levels in the body can be responsible factors for heart attack and stroke. Daily intake of papaya can reduce the level of cholesterol and ensure heart healthy.
Papaya for super digestion: It is soft in nature and easy to take and even a baby can eat this fruits as it has the capability to ingest. Papaya improves digestion as it has enzymatic properties and also removes different kinds waste production. The water extract and ethanolic extract of papaya have the protective role to cleanse waste production from our metabolites. It also divides protein in to different parts and reaches in different parts of the organs to increase supply of energy. It may be a problem if protein is not digested effectively and papaya have effective role in digestion of protein. Moreover, constipation is common problem among those who like to take spicy and fried foods. This problem can be prevented if intake of papaya can be taken on daily basis and keeps a healthy bowl.
Weight loss: When you have taken lots of foods like sugar sweetened beverages, fast foods and lack of labor that have made you obese and you are so depressed to lose your weight. But there is also an effective treatment by taking herbal foods like taking papaya in order to lose weight. Papaya health benefits is it is full of water and can replenish needed portion of foods in the afternoon or evening. This fruit should best for those who want to lose weight. It is good for health also.
Menstruation: Most of the women have common problem like irregular menstruation due to lack of nutrition in the human body. When they face this problem, they feel like vomiting, nausea and lose appetite for taking foods. Papaya can be nice fruit to solve this problem and it is great and secret help for the solution of this problem. There is general instruction of taking papaya that is taking papaya as green can be good to normalize menstruation as it supplies heat in the body and this heat stimulates estrogen hormones and occurs menses. Papaya health benefits is so beautiful and helpful for difficult, painful and irregular menstruation.
Immunity: Most of us have feeble immunity and different disease like cold, fever, ache and different seasonal disease are common among those who have feeble immunization. For a strong immunization, papaya health benefits may be good and it can boost power of immunization. It contains vitamin c, vitamin e and antioxidants which work to beat sign of aging which lead to health complication. So to lead a healthy life, papaya health benefits should be treated as angel of all fruits.
Papaya health benefits can be regarded as a tool to live for highly old people. In old age, there may be different health related problem and papaya is one of the most active answer. Even It can be one of the ways for all to live better, stronger and safer life. So papaya should be regular part of your daily diet.