Almond is one of the popular fruit around the world and nutritionally dense fruit. It is kind of seeds from the fruit. This fruit is a rich source of B vitamins, riboflavin, vitamin E and niacin. Almond contains Magnesium, manganese, phosphorus and zinc. However, Almond is merely fruit and why you should eat this fruit is for your health benefits. It has most powerful effect on lowering cholesterol level, cancer protective role, weight management, brain health as well as other health benefits of almond. Even almond nutrition is considered as one of the medicinal use for lots of health complications. So here we will discuss about health benefits of almond.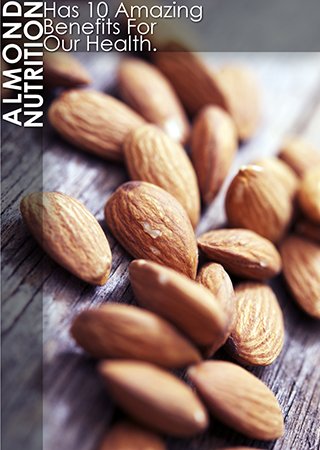 For lowering cholesterol level: Almond has a powerful antioxidant that is vitamin E. A human boy needs this antioxidant to defend any damage or free radicals or oxidative stress. So it increases the level of vitamin E in the plasma and red blood cells and lower cholesterol level. Eating a handful almond may be so helpful for your healthy life and health benefits of almond for lowering cholesterol is so effective.
For weight management: Almond is full of protein and fiber and contains less carbohydrates. This function is helpful for weight management. Even it reduces calories consumed from other foods. So those who want to lose weight can take almond for slim physical structure. To stay healthy and lead a life without physical complications in taking health benefits of almond, almond may be one of the essential part of the daily diet.
For reducing the risk of cancer: Study have found that those who have taken almond at early life have less risk of facing breast cancer. Even breast cancer diagnosed for the women have taken less amount of almond and nutritional level from almond has been found very low. So especially women should eat almond food to defend the risk of facing breast cancer.
For controlling blood sugar: Almond contains high amount of magnesium. Magnesium is the effective treatment of type 2 diabetes. At present the risk of type 2 diabetes is increasing highly. Many research have found that type 2 diabetes has been diagnosed for low intake of almond nutrition. Almonds also helps in reducing rise in glucose and insulin level. So there is no fear even if there is existing type 2 diabetes.
Helpful for heart health: Almonds have phytochemicals like chemical based on plants. Chemicals from plant are important and powerful antioxidants to fight against cardiovascular and heart disease. This antioxidant like flavonoids reduce inflammation and keep heart healthy to make sure preventing any heart attack or stroke. Almonds also are helpful in preventing forming any kind of damage in the artery walls and removes harmful plaque buildup.
For avoiding birth defects: Most of the cases, it may be seen that birth of premature baby, baby's health complications are common problem. It is because intake of lower amount of folic acid for pregnant woman. Almonds contain high amount of folic acid that helps form cell and tissue as strong. Neural tube defects are also a big health problem. For better health of a pregnant woman as well as her baby to born, almonds play effective role to avoid any danger for the neural tube in the fetus.
Digestion improvement: When you have constipation problem, you have lack of enough foods which are fiber. More you are going to take fiber rich foods; better you are enjoying digestion process. Almonds are full of fiber and it normalizes digestion process and removes complications like constipation.
Removing tiredness: When you are feeling tiredness or sluggishness, almonds are helpful in reducing tiredness or sluggishness. Almonds contain copper, zinc, potassium, manganese which produce enough energy in the human body. So when you are feeling fatigue, a handful of almonds may work instantly to get back you in full energy. Even almonds also remove mental tiredness and improves sleep conditions.
Maintaining skin health: there are lots of skin related problem like acne wrinkles or skin cancer and nutrition from almonds have effect to protect these skin complications. Almonds contain Vitamins E and other antioxidants which fight against oxidation from free radicals. This nutrition and antioxidants hydrates skin and nourishes skin in healthy way. For health and glowing skin, almonds should be your daily part of foods.
Brain development: Brain disorders are not expected by anyone and brain disorders like dementia and alzhemer's can be prevented with intake of almonds on daily basis. It has riboflavin and this best nutrition is one of the best medicine for brain function and it also prevents any cognitive loss. Almonds may be best foods for the old people who face another brain disorders memory loss. Study and research have found that taking almonds by elderly persons have strong memory as nutrition from almonds reduce inflammation in the brain.
However, Almonds are obviously nutritional powerhouse and they have many health benefits with almond nutrition. These foods are also high energy enhancing foods also give healthy brain. So you should take almonds and almond nutrition to keep healthy and maintain your health to live longer and better.