With the change of time, the habit of taking foods as nutrition is changing also. Ancient time, people only depended on foods to meet up hunger and in the same way, foods have been used effective medicines to protect different kinds of diseases, Avocados is one of the most ancient fruits that has lots of health benefits containing different kinds of essential nutrients and phytochemicals. The consumption of avocados can bring lots of health benefit like lowering blood pressure, lowering bad cholesterol, controlling blood sugar. Avocados highly work in these areas because it has high fat and low sugar. Different research also identified that nutrition on avocado benefits to reduce the risk of cardio vascular disease, weight control and healthy aging.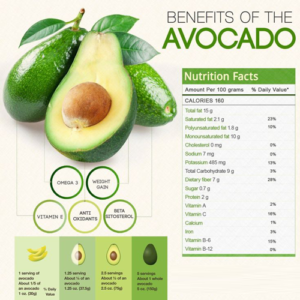 Osteoarthritis: Osteoarthritis is one kind of arthritis that can be found due to aging, inflammation, any injury and obesity. It is also found among the aged people as they become old. It also occurs in the joint bone that has destruction in the cartilage tissue. Pain, joint inflammation, stiffness and swelling in the joint bone are found due to osteoarthritis. The major antioxidants compounds to protect aging, pain in the joint bone, inflammation contain in avocados. So avocados should be best choice in making a healthy body and be healthy in spite of being old.
Cancer protective role: Scientifically it is proved that avocados has cancer protective role as it has bioactive phytochemicals that is called plant chemicals which is very effective. Researchers have shown that this phytochemicals protects cell damaged and stops free radicals to make sure infection is not growing. According to American National Cancer Institute, Avocados is most effective for preventing breast cancer. Women who are breast cancer survivors are found that nutritional supplements from avocados were less than those who were not diagnosed with this cancer. Even Avocados has antitumor effects and cancer like prostate is protected with one of the active components like lutiens. If you are healthy and don't have any physical complications, you may think that I am okay and don't need to add fruits like avocados. But the truth is that adding this fruit means keeping you away far away from the risk of cancer.
Avocados for cardiovascular disease: Compared to other fruits, Avocados has little amount of sugar and this is one of the fruits that lower bad cholesterol and blood pressure. Health researchers suggest that adding an avocado with your daily diet will surly reduce the risk of cardiovascular disease like heart attack and stroke. At present, obesity and intake of salt with processed foods is significantly increasing as the tasty foods for the people and the risk of heart attack related deaths has also been common among the people. So if you are conscious of your health diet, you need to add this great nutrients fruits in your daily diet.
Eye Health: Avocados is a unique fruit and most of the health researchers have opined and suggested to take this fruits. This fruit is called as medicine of different disease according to different study and health experts. Avocado has powerful antioxidants to protect eye related complications. Even study has shown that those who have taken avocados from early life have less eye related complications in the elderly life. It also has lutien and zeaxanthin which are helpful in the eye where light is focused on the lens. Study also defined that low intake of this dietary fruits is the reason of age related eye dysfunction.
Weight Management: To lead a healthy life, fruits and vegetables are the most effective and helpful supplements to keep away from all kinds of disease. These fruits and vegetables play so valuable roles for weight management. The consumption of avocados helps protect against abdominal fat which is the reason of obesity. The study about avocados for weight management also shows that avocados have moderate fat, viscose water and dietary fiber. That's why it burns calories more than any other foods and controls weight. Even one-half of an avocado taken at any meal can reduce hunger and desire to eat more foods.
Skin Health: Skin is the external beauty of people. Most of the people want to represent themselves in more beautiful way. Skin damage like crack, itchy, white layers and winter skin complication are common problems and these problems keeps people in awkward situation. The facial skin is always affected with oxidative and inflammatory damage due to ultraviolet exposure and visible radiation. The great benefit of avocados is it has bioavailable lutien and zeaxanthin which are the effective to protect skin from those complications. So for healthy and glowing skin, intake of avocados has been recommended from the view of clinical study. How Avocados can be taken with diet:
Use in your daily salads: Avocados can be taken with salads in our daily meals. A slice of avocados on top of fish or salad is going to make your dish more tasty and healthy. Use it with sandwich: If you are fond of eating sandwich then you need to put a slice or two on a sandwich or using chopped avocado in a salad or to season vegetables.
Avocado toast: Now it has been so popular to eat toast with avocado and it is available in any grocery shops. Or if you want to make toast then put slice of avocado on toast. Using it as a condiment is a great way to incorporate avocados into meals. In spite of having disease protective role, avocado has also lots of nutritional supplements.
These are Potassium, magnesium, phytochemicals, fatty acids, dietary fiber, B vitamins and has low sugar. So this fruit may be best choice for all people who want to be happy in leading healthy life. Even avocado is very effective especially for sick and old people. This fruit also has long history that is in 1605, Spanish soldier and poet Garcilazo de la Vega described the avocado as "delicious and very healthy for sick people". So it can be inferred that avocados is very old fruit and vitamins from avocado should be taken to gain health benefit.