You have completely shaped your baby and you are now to be a Pregnant Women. At this 6th month, your baby is growing so fast and need a supply of more nutrition in your body. Even you may feel hungry here and want to take much more foods. Taking right foods will be the right decision for your baby's healthy growth and development. So we will discuss your touch with foods that are essential now.
Water and Juices: As much as you can, drink enough water and fresh fruits juices. Water makes up amniotic fluid. This amniotic fluid helps baby move, kick and tumble. So it can be said that fluids are the baby's life support which is totally made of water. Shortage of water at this time is so dangerous because your baby kidney and urine may be affected. So at least drink 1-litre water or more and juices from fresh fruits to enhance fluids level.
Dairy Foods: One litter of milk is helpful if you can without any problem at this stage. Milk is rich in calcium which helps form your baby's bone, teeth rigid. It is also needed for nerves and enzymes for effective functioning. The skeleton of your baby will be rigid and hard if you supply enough calcium from drinking enough dairy foods like milk, low-fat yoghurt and hard cheese. It may be dangerous for a pregnant Women if she does not take enough calcium because a baby will absorb calcium from her mother's bone.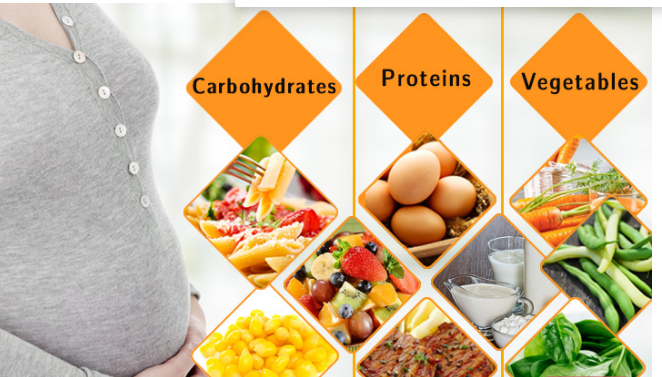 Lean meat and Egg. Your baby is growing and demanding more protein to make up cells and tissue. It also helps for the growth and development of the body, maintenance, replacement of damaged tissues and indispensable part of hormones like thyroxine and insulin. So enough protein intakes, your preference should be meats with right cuts and eggs which is the most powerful foods during pregnancy. But those should be safe that means egg should be hard-boiled and lean meat should be heated deeply with the stream to make sure there are no harmful substances.
Banana, Potatoes, Whole grains: they are plant foods which are the great source of carbohydrates. Carbohydrates have three parts-carbon, hydrogen and oxygen. They are burned during metabolism to supply energy. Without the energy of the mother, the growth of the baby will be feeble. There are also processed potatoes and whole grains which may contain less nutrition. So keep away from tasty processed foods and try to take whole grains, fresh banana and potatoes with skin.
Vegetables: For gaining fibre and all types of vitamins, you should go for vegetables and increase the supply of vegetables to your body. As you and your baby are two persons so you must ensure all types vitamins from different vegetables- high fiber, vitamin-c and vitamin-A are found from carrots, pumpkins contain zinc, protein, fair amount of fats, iron fiber and carbohydrates, Eggplants are rich in Vitamin-A, Vitamin-C, Vitamin-E and vitamin-B complex, Tomatoes has Vitamin-C and Vitamin-A, potatoes are great sources of carbohydrates, calcium, potassium, fiber, folate and cauliflower contains vitamin-C and folic acid. If they are mixed in the meals, it will be better for your baby's growth.
Fruits: Most of the Pregnant Women can't take enough vegetables due to the variance of taste. But you must take vitamins and minerals from natural sources. You can't eat vegetables much more but you need to think about substitute placement of foods. Most of the Pregnant Women may like to take a taste from fruits which are sources of minerals and these minerals are helpful for the healthy growth and development. Orange is one of the sources of Vitamin-C, potassium, folate and antioxidants, Grapes are sources of Iron, antioxidants, natural sugar glucose, fructose, Vitamin-A, C, K and B group, Apples contain iron, phytonutrients, antioxidants and dietary fiber, pears has vitamin-C, folate, potassium, fiber, copper and phosphorus.
In this stage, you need to focus taking all kinds of vitamins and minerals into your meals. It is also more important to discuss with your doctors or physicians if you are on right track according to your need. If needed, you may put importance on foods prescribed by the doctor. Even you will also think and avoid foods that make you trouble. But our aim is to fulfil nutrition to make sure you are aspiring a smooth delivery and healthy and smiley looking baby.