In ancient time, there was no advancement of modern medical science and ancient people having different health disorders used many types of foods as herbal medicine to cure disease. Throughout the history, people from all cultures have used garlic as treatment and prevention of different diseases. The modern science has examined and researched about garlic and found the effects of garlic and its extracts in a wide range. Garlic is one of the parts of our daily diet and many of us may know something about garlic but there are many things to know about garlic. Garlic is medicine to curb the risk of cardiovascular disease, anti-tumor and has anti-microbial and antibacterial effects for infectious disease, diabetes. However we discuss health benefits of garlic and how it can be used as medicine.
Garlic on cardiovascular disease: Garlic has strong effects in reducing cardiovascular disease. It lowers blood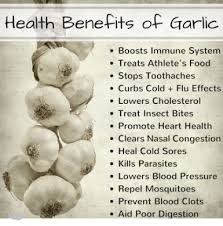 pressure in preventing serum cholesterol, inhibition of platelet aggregation and atherosclerosis which are demonstrated as the cardiovascular effects. Aged garlic has been suggested by research as lowering systolic blood pressure who have already uncontrolled hypertension. So it is clear that garlic should be considered as medicine of lowering cholesterol and beneficial for us.
Garlic on Anti-tumor: Garlic benefits for womens because the risk of cancer is increasing day by day like breast cancer, lung cancer, brain cancer and skin cancer. The clinical research has found that those people diagnosed with that cancer were found to have shortage of nutritional properties from garlic. Garlic has been found to contain bioactive compounds and anti cancer properties named ally sulfide. The conditions of hardening and narrowing of the arteries are meant as atherosclerosis and it has very dangerous effect on human body like blocking blood flow at risk and ultimately it causes heart attack and strokes. It may happen when high serum lipids, excessive inflammation and coronary artery are promoted. Different study and research have shown that garlic has so many anti atherosclerotic properties that fight against this disorder.
Garlic for diabetes: Many researches have shown that there is good news for those who have diabetes. Blood glucose is one of the significant reasons for diabetes. Volatile sulfur properties contain in garlic and this component is the killer of blood glucose and reduces the acuteness of diabetes. So Diabetes can be curbed and garlic can be used as medicine for diabetes complications.
Garlic for Infectious disease: In ancient time, there was no modern medicine to cure different disease like infectious disease. They often searched for plant and food based medicine to cure disease. With the change of time, modern science is also studying different components of different foods. This garlic has been used from culture to culture and century to century. History has proved that this garlic is the medicine of many complication of human body.  Garlic has antimicrobial and antibacterial properties to reduce the risk of facing infectious disease. It may be so distasteful to take raw garlic but every morning one clove of raw garlic produces antimicrobial and antibacterial properties in the human body.
Garlic for HIV and infected disease: in the case of HIV, there are scientific facts of garlic to work against HIV-infected cells. Study also finds that garlic extract for HIV positive survivors work strongly to protect the infected cells caused by HIV with the properties of allicin and this allicin is the protective power that reduce the strengths of infected cells. Raw garlic has also medicinal uses in preventing and treating seasonal flu and colds. Even most of the people in different part of the world even now use garlic to treat seasonal flu and colds.
Garlic for healthy liver: Liver may be affected with the toxic agents that are produced by aging and free radicals. Several studies showed that garlic can remove those toxic agents produced by free radicals. Most of the dangerous causes, liver is infected and swollen with water and it's called hepatitis B or B virus. So the effective killer of this virus can be thrown away in case of regular intake of garlic especially aged garlic. So it is good news for all of us that the powerful properties of garlic work against liver damage maker.
How garlic can be taken as dietary intake:
From the beginning of civilization, intake of garlic is playing significant role in preventing and treating different kinds of disease and ensuring a healthy physical condition for human body. This intake of garlic has extra ordinary effects to increase stamina, improve health conditions so why not taking garlic as our regular diet?
Raw Garlic: 65% water is found raw garlic and high amounts bioactive properties to curb oxidation is possible if garlic is taken as raw. Even everyday at the start of the day that means after getting up early in the morning, one clove of raw garlic will reduce 80% possibility of the disease discussed above.
Aged garlic extract: When garlic is stored for the long term and becomes seeds for the next cultivation, buds from one clove comes out and it takes huge powerful antioxidants. The aged garlic increases also potent antioxidants including allylcysteine and provides better antioxidants than fresh garlic.
Daily intake: there is no standard intake of raw and aged garlic as diet. But Aged garlic should be taken from 0.25 to 7.2 gram per day. This intake will keep anyone from different health problems. Children and pregnant woman can take garlic as medicinal uses but before taking it, it is important to discuss with health provider.
Diet is so important for the maintenance and prevention of many diseases. Garlic with diet exert substantial medicinal role and can be regarded as one the best disease preventive foods. Different journal and research have always supported Mediterranean diet which is called diet rich with fruits and vegetables to keep away from different diseases and always keep healthy and stay alive for long time without any physical disorder. The properties from different sides in garlic are so important and have health benefit. However more research and study is going on to use garlic as one of the most important medicinal uses.