Every year, millions of people are diagnosed with chronic obstructive pulmonary disease asthma , commonly known as COPD all over the world. To get into this article, let us try to know what COPD is and how it harms people in their daily life in a few lines. This is a progressive disease affects the lung and gets worse over time making things difficult to breathe. It produces excessive amounts of mucus, tighten the chest; affected people suffering from shortness of breath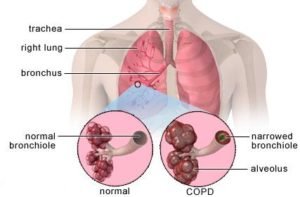 and can make people disable for daily work life. It is the third highest cause of death in the United States. Smoking habit is the main cause of this fatal disease, besides this air pollution, chemical fumes, or dust and some rare genetic condition can also trigger COPD. Besides medication, to prevent the symptoms of this disease, an all out change of lifestyle is needed. So is your food habit. There are some foods harmful to the people who are already diagnosed with COPD. We discuss here some of the foods to avoid that can make worse the position of a COPD patient .
Cold Cuts are harmful to COPD
In most slices of cold cooked or processed meats in Ham, cold cuts, Hot Dogs, Bacon, a preservative called 'nitrates' is used to add color to give longer shelf life. This additive can be harmful to a COPD patient because people with COPD have had the bitter experience to readmit the hospital after taking these types of foods. Eating these types of food may enhance the risk of affecting COPD those who are not affected yet as found from a study conducted by the European Respiratory Journal.
Excessive Salty Foods
Salt is not merely essential for the human body, but the human body contains many salts and salt also use to add taste to the foods. Foods with heavy salt may harmful for the people with COPD because salt makes the human body keep hold of excess water that causes breathing problems. Try to add some herbs and salt-free spices to avoid regular salt to add taste and flavor to your foods.
Cruciferous Vegetables
Cruciferous vegetables with its fiber and nutrients are good veggies for the lung and some of its work against the development of cancer cells in lung and mend the damage cells in it. But it is not a good choice for a person with COPD because it can cause gas and bloating. Excessive gas and bloating can increase the symptom of COPD and make it difficult to breathe. If vegetables like cabbage, broccoli, radishes, and cauliflower create such kind of problem, avoid them or consume in a limited amount.
Dairy products
Like most other respiratory disorder, COPD has linked with increased mucus production in the respiratory system. Milk can be sensitive to CPOD patient because, besides containing a huge amount of vitamins and minerals it also contains casomorphin- a breakdown product of milk- known as an accelerator of mucus production. If any symptom is seen after eating Yogurt, Ice Cream, Cheese, Buttermilk; stop having these as soon as possible and try soy or almond milk instead to full fill the food value you get from milk.
Deep fried foods
A dehydrate environment is not a good state of the human body, especially for the vital organs like stomach, liver, kidney, and lung. Deep fried foods dehydrate the body and gain extra weight that put pressure on the diaphragm. Besides, like cruciferous vegetables, it also causes bloating and excess gas to make people difficult to breathe. To avoid such complex if you are diagnosed with COPD, cut off deep fried foods from you diet like french fries, fried chicken or onion rings and try to take smoked grilled and bake foods instead.
Carbonated Beverages
Carbonated water contains a high density of sugar and at this sugary water is responsible to dehydrate the body. Lung needs a good supply of water to work properly because the human body eliminates water while breathing. Carbonated water also helps to gain extra weight that is also putting pressure on the chest and make things difficult to breathe easily. It also causes gas and bloating and put pressure on the lung. Cut of beer, sparkling water, carbonated soft drinks and intake fresh fruit juice and fresh water to avoid the harm to the lung.
Acidic Foods and Drinks
Acidic foods and drinks cause heartburn and if anyone suffers from heartburn for more than two weeks is called acid reflux disease also referred as GERD. It can increase the COPD symptoms . Citrus, coffee, tomato sauce, fruit juice, and spicy foods can lead you to such types of a complex when you are affected with COPD.
Avoid Sulfites
Fish farmers often use sulfites in cultivating shrimps and food store also add this chemical to foods and drinks to maintain shelf life or to change color. Sulfites usually shrink up the bronchial tubes and make the respiratory passages deficit thus increase the complexity to a COPD affected person. Cut of shrimp, processed potato, wine, and beer. Don't take any medicine without a prescription from a registered doctor because some medicines also contain this chemical.
There is a lot of healthy foods are there that are COPD friendly. Try that type of foods and keep in touch with your doctor. It will make things easy for you.