Without proper water level in the human body, it can't function rightly because the major part of the human body is water, about 65 to 70 percent of it. The activity of each and every organ depends on the regular water flow with the proper amount. The human body loses water naturally every day through its natural excretory systems such as breath, urine, and sweat. Water loss (Dehydration ) in the human body also depends on a person's level of physical activities, in which environment, he or she stays and the temperature and humidity level in that environment.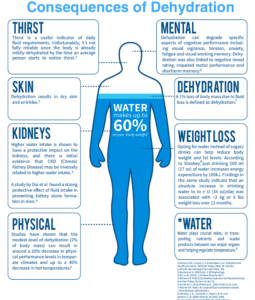 If the water loss is not fulfilled by taking the proper amount of drinkable fluid, it dehydrates the human body. Sometimes the body may dehydrate chronically caused various types of physical disorder – chronic pains, insomnia, lack of mental clarity and concentration, anxiety, and depression and sometimes leads people to death.
Drinking water properly, time to time helps people to keep hydrated. But there are some foods and drinks that can hydrate the human body chronically when those are taken excessively. Here we discussed briefly such types of food that disturb the water balance in the human body.
Dehydrate Food List:
Asparagus
Some veggies have diuretic properties. In Asparagus, an amino acid is found called asparagine diuretic in nature. Much consuming of asparagus can increase the level of asparagine resulting dehydration in the human body. Though unlike other veggies, there is a good amount of water iit, and it is also beneficial for health, but keep in your mind that it contains aparagines and take it as much as its hydrate your body.
Alcohol
After a joyful night of drinking, the very next morning seems to be colorless and energy less, but why? It is the alcohol that ate up all your energy and cheerfulness because it has dehydrated, your body by depleting your cells of water. Keep your body hydrate keep away from this natural diuretic.
Coffee
Coffee is good to increase your energy level and make you more fit and workable but diuretic in nature. It is the caffeine that increases your energy level and but it is also responsible for the loss of fluid by increasing the flash out rate of urine. Take no more than two cups of coffee a day, and if your intake rate of coffee is more than three cups, then increase the rate of drinking water to balance the fluid loss.
Drinks with high sugar
Sugary drinks are responsible to create an acidic environment in the human body that can weaken some function in the human body and lessen the natural capacity of water storage, though it can feel you fresh instantly after you take it. But it can increase the rate of losing water of your body and dehydrate it.
Foods with high protein:
Foods with high-Protein are diuretic in nature because to metabolize these types of foods, the body uses more water than veggies. Some kinds of foods with high protein also contain extra salt can chronically dehydrate your body. Try to avoid such kind of foods. If not possible, drink lots of water to balance the fluid level in the body, otherwise, cells can be water-depleted.
Popcorn
Popcorn contains sodium. A regular bowl of popcorn usually served in the movie-theater contain such amount of sugar is enough to dry up your body before you finished with your movie. Try to enjoy your movies without drying up your body trying other healthy food and drink for it. The mingling of soda and popcorn can be more diuretic in nature cause chronic harm. After taking popcorn, take a good amount of water.
Parsley
Parsley is highly diuretic in nature and can increase the rate of flush out of fluid through urine. To keep away from bone-dry, we should consume it limited amount and take extra water to get rid of dry up caused by it.
Salty foods
The body has to use much water to eliminate sodium and flush it out. Salty foods are the supplier of extra sodium in the human body responsible for the fluid loss. If you are in a condition of vomiting and loose motion, or you are in such an environment that is hot with much humidity, you should not take salty food at all that can increase the rate fluid loss. If you like to take salty foods, you must take lots of water to balance the fluid level.
Soda
Unlike sugary drink, soda also refreshes the body instantly, but diuretic in nature. It dehydrates the human body by drawing out water from the cells. Try to take fresh water, natural fruit juice without added sugar of other sugar-free drinks instead to keep your body environment hydrated.
Intake low amount of water, less than eight glasses each day in a normal environment, can also dehydrate you or imbalance your fluid level. If the weather is hotter than as usual makes sweating more, then increase the consuming rate of water. Feel the signal of your brain that make you drink water and answer the demand of water as much as your body needed. It will keep your body and mind fit and workable.