The regular supply of oxygenated blood is the most essential part of the function of the human body. Lack of normal regular supply (poor blood circulation) resulting number of physical disorders such as a weakened immune system, decreased cognitive ability, loss of appetite & digestive problems, dark circles under the eyes,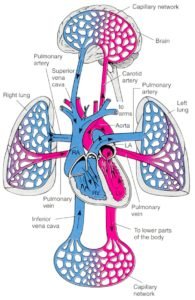 skin discoloration, dry skin, numbness in the knees and many other issues. The blood circulatory system ensures the supply of water, nutrients, hormones and other necessary elements to the tissues in need. So sound health depends on normal and regular blood circulation in the human body. If anything hampers the normal blood circulation process in any part of the human body, that parts lacks consuming necessary elements such as oxygen, water, nutrients and other necessary elements that help to keep it work. There are a lot of processes that can help boost and accelerate blood circulation system in the human body, such as regular exercise, walking, swimming, hiking, relaxing, stop smoking, keeping out from stress and taking foods that improve blood circulation. Here named some foods available in your dinner table regularly helpful for boosting and improving blood circulation.
Whole grains: Choose whole grains containing insoluble fiber help flush out harmful blood cholesterols from the body, such as whole wheat bread, millet, brown rice, oatmeals et cetera. These whole grains are macrobiotic diet in the genre, can detoxify the blood and prevent constipation, thus help accelerate the rate of blood circulation in various parts of the human body and reduce the probability of heart disease.
Citrus fruits: With high degree vitamin C and lower sugar, citrus fruits like grapefruits, lemon, oranges, and limes work as a natural blood thinner help improve the blood circulation system as well as alkalize the body by flushing out acidic elements. Try to take these fruit as a whole because consuming as a whole help getting soluble fibers beneficial to reduce bad cholesterol in the blood and anti-inflammatory in nature rather than that of fruit juice.
Watermelons: Lycopene is helpful for smooth blood circulation and it also helps prevent plaque build up, a natural antioxidant found in watermelon,. L-citruline, one kind of amino acid available in watermelon decreases blood pressure and also help broaden blood vessels and improve blood vessels. Watermelon is also good to alkalize the body by flushing out acidic elements.
Berries: Anthocyanins are very beneficial nutrients help decrees hypertension and also keep the heart healthy found available in blueberries and strawberries and we know sound heart ensures good blood circulation. Some nutrients and antioxidants found in blackberries help detoxifying blood and accelerates producing new blood cell.
Pumpkin seeds: Pumpkin seeds are good sources of types of vitamins, minerals, fiber, antioxidants and especially vitamin E and anti-inflammatory in nature. It is helpful to reduce cholesterol, prevent blood clot. It helps to protect tissue and increase blood flow in the leg portion of the human body and in joints.
Nuts: Here we will discuss about two types of nuts- walnut and almond here. Walnut is a good source of omega-3 fatty acid, niacin and thiamine. Omega-3 is good for blood vessels. Thiamine and niacin work as boosters that improve the blood circulation rate. Rich in monounsaturated fat and fiber, Almond helps reduce the bad cholesterol and help prevent from heat stroke.
Dark Chocolate: Like other few plants and fruits, coca is a good source of natural Flavonoids helpful for improving blood circulation. Want to consume natural Flavonoids, then dark chocolate would be an intelligent choice. If you are a chocolate lover, then love to eat dark chocolate.
Ginger: Ginger is beneficial to the total immune system. It helps remove nausea, improve digestion problem and it also help clear congestion. On the other hand. It helps to improve blood circulation in organs and accelerate it. To keep your blood circulatory system Ok, take it with your tea, as in tincture format, as raw or as spice while cooking regularly- no matter what is the format, all it will be done.
Garlic: Known as a very powerful natural antibiotic- garlic is also a natural blood thinner helps cleaning the blood and avoid the accumulation of bloods in vain, artery and joints. It also resists build-up of plaques in blood vessels. Consuming one or two cloves of garlic daily with empty stomach is beneficial for improving blood circulation. Garlic is used as a spice in everyday cooking in many countries in Asia, having low blood related and heart related disease with the people (non smokers) of those countries.
Fish: Fish is a good dietary choice to keep the blood circulatory system Ok. Omega-3 fats, found in fishes such as salmon, avocados, herring, beneficial for the cardiovascular system and keep the blood pumping system smooth and keep the blood circulation environment good and healthy.